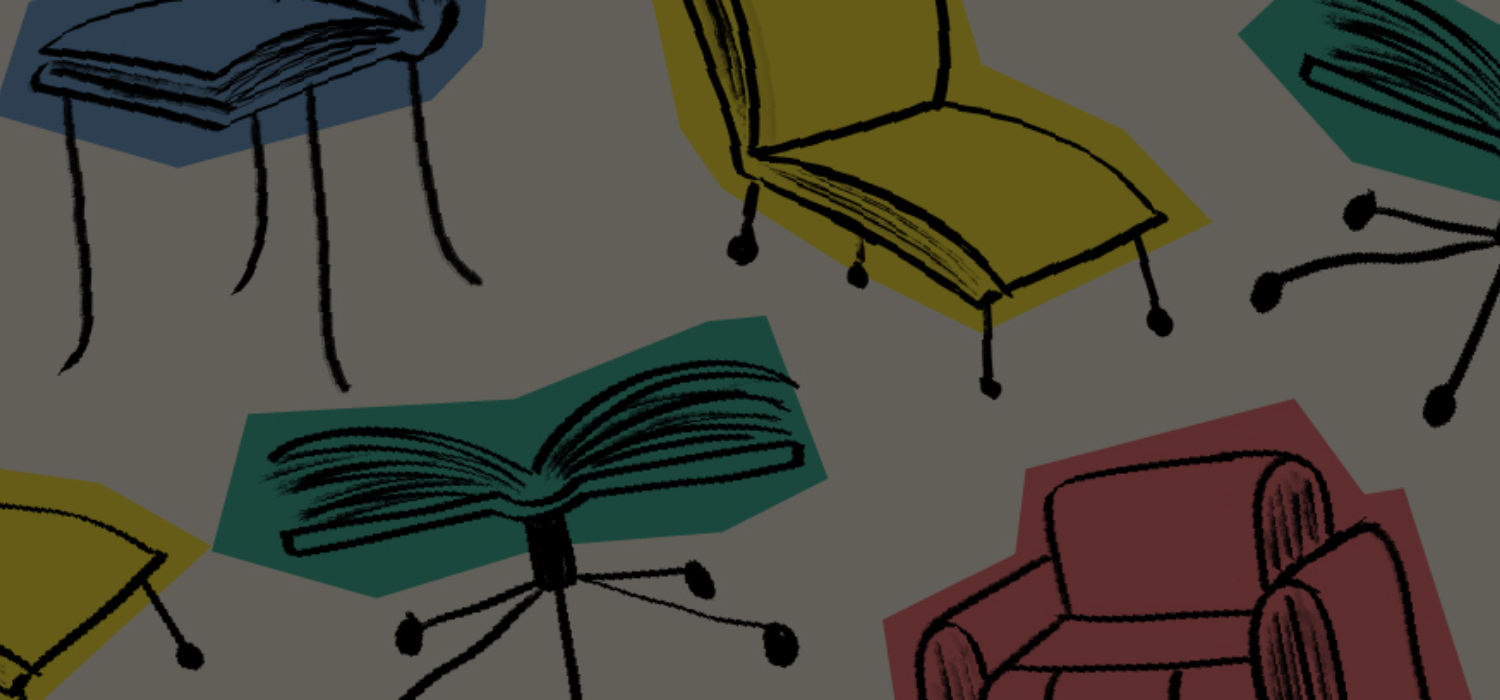 In Madrid, both bookshops and libraries have an exceptional weight in the cultural fabric of the city. Offering the general public a wide range of culture and possibilities that is responsible for satisfying the concerns of all its inhabitants. The Madrid City Council, in collaboration with the Guild of Bookshops and through its projects Madrid Capital de Moda and Todo está en Madrid, once again supports the bookstore sector by giving life to the 'Siéntate a Leer' ('Sit down to Read') campaign.
Bookstores, libraries, cultural centers, markets and other establishments come together to show that books are fundamental companions in our lives and that sitting down to read is always a good idea. Bookstores like libraries are much more than "spaces where you can find books". They bring life to the neighborhoods as true cultural dynamizers that they are, contributing to their development and well-being. We suggest you take a route through the bookstores and libraries of Madrid through our map and by entering the 'Todo está en Madrid' (All is in Madrid) website, where you will also find information about the different establishments that collaborate in the campaign.
If you want to find out at all times what is going to take place during the 'Siéntate a Leer' campaign between April 10 and May 10, check the list of activities in the following link⬇⬇
Madrid's Bookstores Route
ACTIVITIES
▶ 'SOY DE LA CUESTA' ASSOCIATION: Firmas Finde (Weekend Firms) 
The Association of Friends of Moyano 'Soy De La Cuesta', in collaboration with the Madrid City Council with the support of the Department of Culture, Tourism and Sports and also, through the Madrid Capital de Moda project, participates with its FIRMAS FINDE initiative. The writer Rosa Montero will be on Sunday 17th in booth 30, while both Leandro Pérez and Miguel Munárriz will be on Saturday 30th April in booth 26 signing copies of their works.
▶ MUGA BOOKSTORE: Tribute to Almudena Grandes
On Saturday, April 23 at 12:30 p.m., there will be an open microphone at the bookstore located at Avenida Pablo Neruda 89 to read the works or memories of the writer. With prior authorization, the recordings that will be made during the recital will form part of the "Confines" podcast. More information
▶ GRAND ENGLISH HOTEL: Book Day at the Gran Hotel Inglés
In the restaurant of the Gran Hotel Inglés, known as Café Inglés when it opened, important personalities from the capital gathered to celebrate some of the best cultural, social and political events in Madrid. Almost 150 years after its inauguration, the hotel is part of the Night of Books in Madrid and has organized a series of events such as a luncheon – literary gathering, the presentation of the book 'Las Esperanzas' as well as the act 'Cocktails and Letters'.
▶ PLATEA: Signature Cocktails
On Fridays from 6:00 p.m. to 02:30 a.m., Saturdays from 12:00 p.m. to 02:30 a.m., and Sundays from 12:00 p.m. to 01:00 a.m., you can enjoy the pleasure of signature cocktails at the establishment, immersing yourself in the literary worlds of its different proposals:
– 'Les Miserables' by Víctor Hugo with the French Style cocktail prepared with vodka macerated with Lemongrass.
– 'The Untouchables' by Eliot Ness and Oscar Fraley with the Pharmaceutical Stimulant cocktail inspired by the Prohibition Law of the 20's.
– 'Pedro Páramo' by Juan Rulfo with the Padrisimo cocktail made with Tequila marinated in rosemary and thyme.
– 'Anthology of José Martí' with the Trip to Havana cocktail, a creation with seasonal fruits and a touch of mint.
▶ MERCADO DE LA PAZ: Mini Book Fair
Pepa Martín, mariscadora de cuentos (shellfisher of stories) , will manage this children's activity located in the market of the Barrio de Salamanca. From April 18 to 23, it will have the presence of different participants:
Editorial "A fin de cuentos". April, 18 – 12pm.
Gabriela Keselman. April, 18 – 6:15pm.
Inma Muñoz. April,19 – 6:15pm.
Doña Mary Collins de Collado. April, 22 – 6:15pm.
▶ MERCADO DE SAN ISIDRO: On Saturday, April 23, Book Day, a recital of passages from 'Don Quixote' will take place in the market from 11am to 2pm.
▶ LA VAGUADA SHOPPING CENTER: Mini Book Fair by El Corte Inglés.
From April 18 to 24 outside the premises of El Corte Inglés (Avenida Monforte de Lemos, 29).
▶ MUNICIPAL LIBRARIES: Check the activities and schedules.
▶  TETUÁN DISTRICT
Concerts:
22 Friday, 6:30 pm and 19:15 pm (Two Sessions): "Tell me a story" by the Guitar Group of the Manuel Vázquez Montalbán Municipal School of Music. At the José de Espronceda Sociocultural Center.
23 Saturday, 7pm: "Rap for Book Day". Young rappers show us the arts of rap through their songs and melodies. At the Eduardo Úrculo Cultural Center.
Theater: 29 Friday, 7pm: "Emilia, that lady" by the Interpretarte company. The function, in a comedy key, brings us the character himself on stage on the occasion of one of the many celebrations of the centenary of his death (1921 – 2021), a conference that Doña Emilia attends among the public. At the Eduardo Úrculo Cultural Center.
➡ Conferences: Thursday 21, 19pm: Lecture and debate on Nebrija by Enrique Gracia Trinidad. 
In this month of April, which we dedicate each year to books, we take the opportunity to remember the imposing figure of Elio Antonio de Nebrija, the great Spanish humanist on the occasion of the 5th centenary of his death, which has been declared an "Event of Exceptional Public Interest" in Spain. . At the José de Espronceda Sociocultural Center.
➡ Books Clubs:
Tuesdays 19 and  26, from 12pm to 1:30pm: Affordable narratives and stories of great literary quality. Maupassant, The Bible, Lope de Vega, E.A. Poe, 1,001 Nights, R. Dahl, Homer, Bécquer, Lovecraft, El Romancero, Isabel Allende, Borges, etc. At the José de Espronceda Sociocultural Center.
Fridays 22 and 29 from 18pm to 19pm: A workshop for children between 9 and 12 years old to learn about and enjoy mythological heroes and stories, and recognize their influence to this day, including in video games, while developing the reading habit and their reading and literary competence. In the Tetuán Sociocultural Center.
▶  VICÁLVARO DISTRICT: Book Day in the Plaza de las Mujeres
Saturday April 23 from 10 a.m. to 2 p.m. Different activities will take place in the Plaza de las Mujeres de Vicálvaro:
Children and Youth Reading Animation (Juan XXIII Foundation)

Tribute to Almudena Grandes and Jose Antonio Escohotado (Juan XXIII Foundation)

Family Reading Animation (Vicálvaro participates)

Perseguidoras de Metáforas (Collective of women writers of Vicálvaro)

Jarcha Bookstore

Colored Pencils Bookstore

Storyteller by Margalida Alberti Cuentera: Professional oral narrator, storyteller and actress. At 11 a.m. and at 12 p.m.

Creation of a joint story between all the participants in a panel in which, with a sentence, a story will start that each one will have to complete until a joint story is created.  

+ Info HERE
We would love to have your collaboration. Whether you are a bookseller, an employee in a library, or if you know of a bookstore or library in Madrid that is not on that list, and you would like it to appear, please send an email to dgcomercio@madrid.es with the name and address of the establishment and we will solve it as soon as possible.