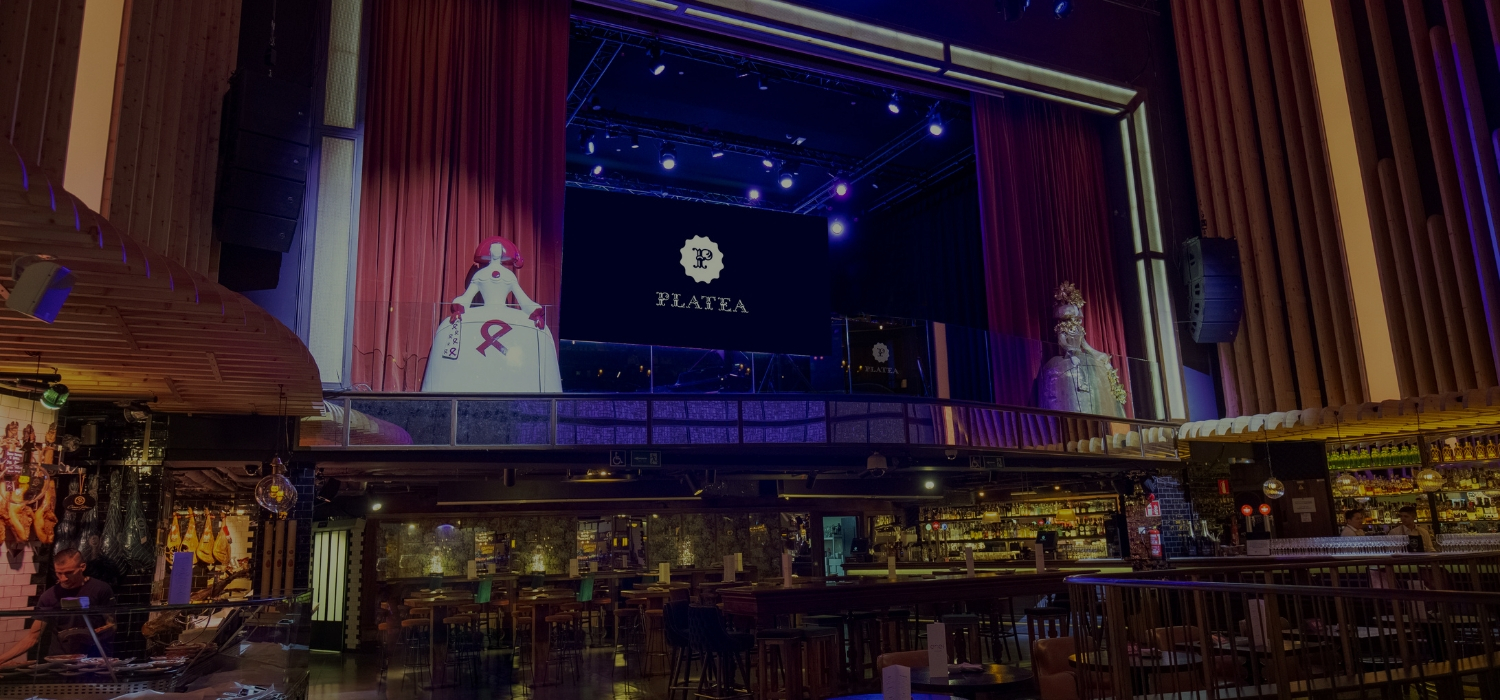 The Platea Madrid leisure space has received the gold medal for the 'Best space for events in Madrid' awarded by the Grupo Evento Plus. In this new edition of the Eventos Plus Awards, Platea Madrid, which began as a cinema, has been awarded as the largest gastronomic leisure center in Europe, which undoubtedly makes it a magnificent place to hold social and corporate events.
Upon receiving the award, its General Manager, Gonzalo Hurtado, declared that "this recognition is the result of an attitude of resilience and hard teamwork." Platea Madrid has 4 floors that offer visitors a unique experience through its different shows, as well as its proposals in gastronomy and cocktails.
Weeks before the award ceremony, Grupo Evento Plus published a video on Platea Madrid's YouTube channel with the slogan "PLATEA: A space for corporate events that invites you to dream". Find out!⤵
Platea Madrid's relationship with Madrid Capital de Moda is historical, and one of its most important milestones was when the Madrid venue hosted the Meninas de Madrid during the month of April 2019. + information here.
Some of the creations by the artist Antonio Azzato occupied different places in Platea Madrid, such as the Menina de Meninas, or the Menina Emprendedora that accompanied the Menina Lady in Gold, by designer Teresa de la Pisa, on both sides of the venue's stage.
In addition, Platea also collaborated again with Madrid Capital de Moda after the 2020 confinement, when, in alliance with Madrid es Moda, it hosted the exhibition by designer Fely Campo claiming the magnificent relationship between fashion, parties and gastronomy.+ information.
During 2022, Platea Madrid has been part of the 'Siéntate a Leer' campaign promoted by the Madrid City Council through its projects Madrid Capital de Moda and Todo está en Madrid and in collaboration with the Guild of Bookstores. Through 'Coctelería de Autor' (Signature Cocktails), the venue delighted the public with delicious cocktails inspired by great titles of literature such as 'Antología de José Martí' or 'Les Miserables' by Víctor Hugo. + information.
For all these and many other reasons, from Madrid Capital de Moda we want to congratulate everyone who makes it possible for Platea Madrid to become the 'Best Space for events in Madrid'. Congratulations!