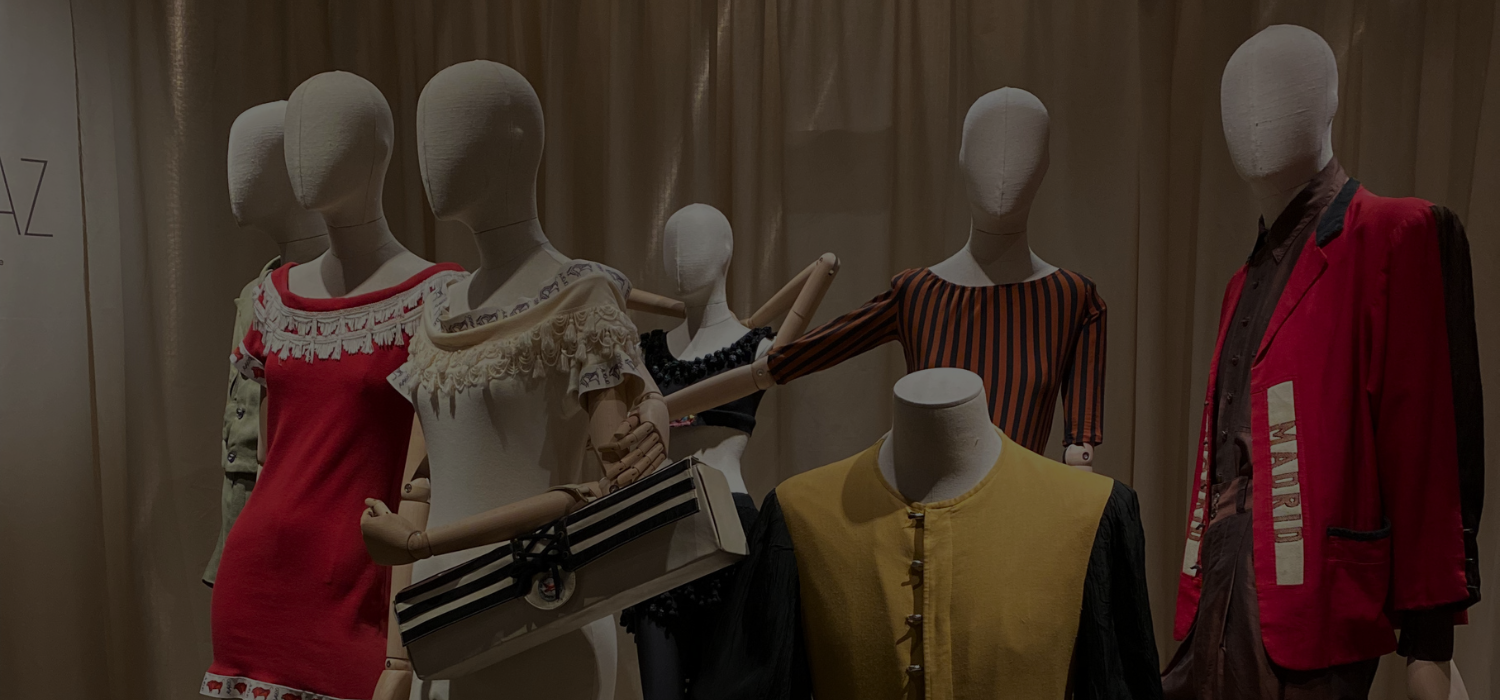 "Alvarado is a very serious tailor, and a very crazy designer, but at the same time he is a very practical couturier." This is how Paula Ramírez Jimeno, the deputy director of the Museo del Traje (Costume Museum) defines the Spanish fashion creator Antonio Alvarado (Pinoso, Alicante 1954). This organization dedicates a retrospective to the so-called 'movida couturier' that can be visited until March 26 .
The institution has worked on this exhibition for 6 years, which serves to value the figure of Alvarado, at the same time, this investigation also included other exhibitions about the Movida Madrileña:  "Manuel Piña, diseñador de moda (1944-1994)" or "Tino Casal, el arte por exceso". This exhibition called 'Antonio Alvarado Baja Costura' has more than 500 pieces loaned by former clients and collectors of his work and offers visitors an analysis of his national and international career.
The irreverence of Spanish fashion
Antonio Alvarado arrives in Madrid at that unique time that was the last years of the Transition and the beginning of the Movida Madrileña (late 70's and early 80's), just at the moment when the currents of the subculture began to gain strength and an explosion of creativity took place in the young creators of the moment, who want to break with the model of previous generations, and who show their need for experimentation, always seeking to turn Spanish fashion into a benchmark within international underground culture.
For Paula Ramírez Jimeno, one of the things that Alvarado achieves, especially in the 1980s, is that he is capable of creating his own vocabulary that is in line with the language of the Movida. One of the designer's main hallmarks is the reinterpretation of Spanish tradition through subversion with garments such as denim bullfighter jackets, trimming details, Manila shawls with punk embroidery, or elements of popular culture such as the Altamira bisons or the bullfighter's swords.
According to the deputy director of the museum, through these proposals, Alvarado helps to shape that image that we all have of 80s fashion and that we have seen great figures like Alaska or Luz Casal wear even though we do not know that he was the author of those garments.
The vibrant 'Movida MADRILEÑA'
It is impossible to understand the so-called Movida Madrileña without the clothes that its protagonists wore. Many of the garments that make up the exhibition have been worn at moments that are part of the collective memory, such as the pink fringed suit that Alaska wore in some of her television performances or the shirt made with Hermès scarves that Antonio Banderas and Eusebio Poncela wore in 'Law of Desire', the 1987 Pedro Almodóvar film.
For Paula Ramírez Jimeno, the inauguration of 'Antonio Alvarado Baja Costura' was a very emotional moment because the designer and his great friends such as actress María Barranco met at the Museo del Traje, who wore his clothes and his coffee maker earrings in Pedro Almodovar's film 'Women on the Verge of a Nervous Breakdown', and that she was able to see these earrings in one of the showcases of the exhibition.
'At the end of the day, the character of María in the film was quite crazy, which was also represented in those earrings that she was wearing on screen' comments Paula, who also points out that the entire exhibition has been carried out thanks to the important collaboration of the providers, the architect of the show, Álvaro Soto, the people who have made the texts for the catalog and also the designer and his son Iván Alvarado, creator of El Mosaista, and one of the curators of 'Antonio Alvarado Baja Costura'.
Paula Ramírez Jimeno points out that at that time, the nightlife and its venues were the meeting place where they created themselves but at the same time sought to show themselves to others and redefine themselves. For this reason, one of the rooms of the exhibition has recreated one of those eighties nights in Madrid in which different personalities and artists from different disciplines met in places like RockOla, La Gloria, a bar run by Alvarado himself. as musicians, painters or photographers.
REWRITING CLASSIC TAILORING 
La subdirectora del Museo del Traje comenta que la exposición también quiere demostrar que a pesar de su nombre, escogido por el propio Alvarado, él no es un modisto de Baja Costura. "En sus creaciones hay oficio porque él es un creador muy serio que realiza un trabajo de corte, materiales y confección muy cuidado, ya que a pesar de sus propuestas alocadas, todas ellas están producidas como mucha técnica y precisión." comenta.
The deputy director of the Museo del Traje comments that the exhibition also wants to show that despite his name, chosen by Alvarado himself, he is not a 'low couture designer'. "There is a trade in his creations because he is a very serious creator who does a very careful work of cutting, materials and clothing, since despite his crazy proposals, all of them are produced with a lot of technique and precision." says Paula.
In his men's tailoring suits you can see a delicate pattern research that combines with a very free attitude, as can be seen in one of the pieces that are part of the exhibition: a masculine suit with short pants created in pink satin, where links high tailoring with the breakdown of gender roles, opening many doors that continue to inspire today.
A DESERVED TRIBUTE
Paula Ramírez Jimeno considera que una de las labores del Museo del Traje es ir más allá porque el trabajo de la institución es sacar a la luz todos esos nombres que de alguna manera se han quedado olvidados pero que merecen un reconocimiento por su inmensa contribución a la cultura contemporánea, por eso era muy importante hacer una retrospectiva de Antonio Alvarado, porque nos da mucha de las claves para nuestra identidad hoy en día, además de la inmensa repercusión que tuvo en su momento, creando un nuevo lenguaje en la ropa que se llevaba a nivel global en aquel tiempo. 
Paula Ramírez Jimeno believes that one of the tasks of the Museo del Traje is to go further because the institution's job is to bring to light all those names that have somehow been forgotten but that deserve recognition for their immense contribution to the contemporary culture, that is why it was very important to do a retrospective of Antonio Alvarado, because it gives us many of the keys to our identity today, in addition to the immense impact it had at the time, creating a new language in the clothes that were worn globally at that time.
In order to discover one of the fundamental figures for Spanish fashion, remember that you have until March 26 to visit 'Antonio Alvarado Baja Costura' at the Museo del Traje, an exhibition that aims to give a 360º vision of the trajectory of Alicante creator and at the same time, bring back that unrepeatable era that were the 80s for both the culture and the Spanish design.