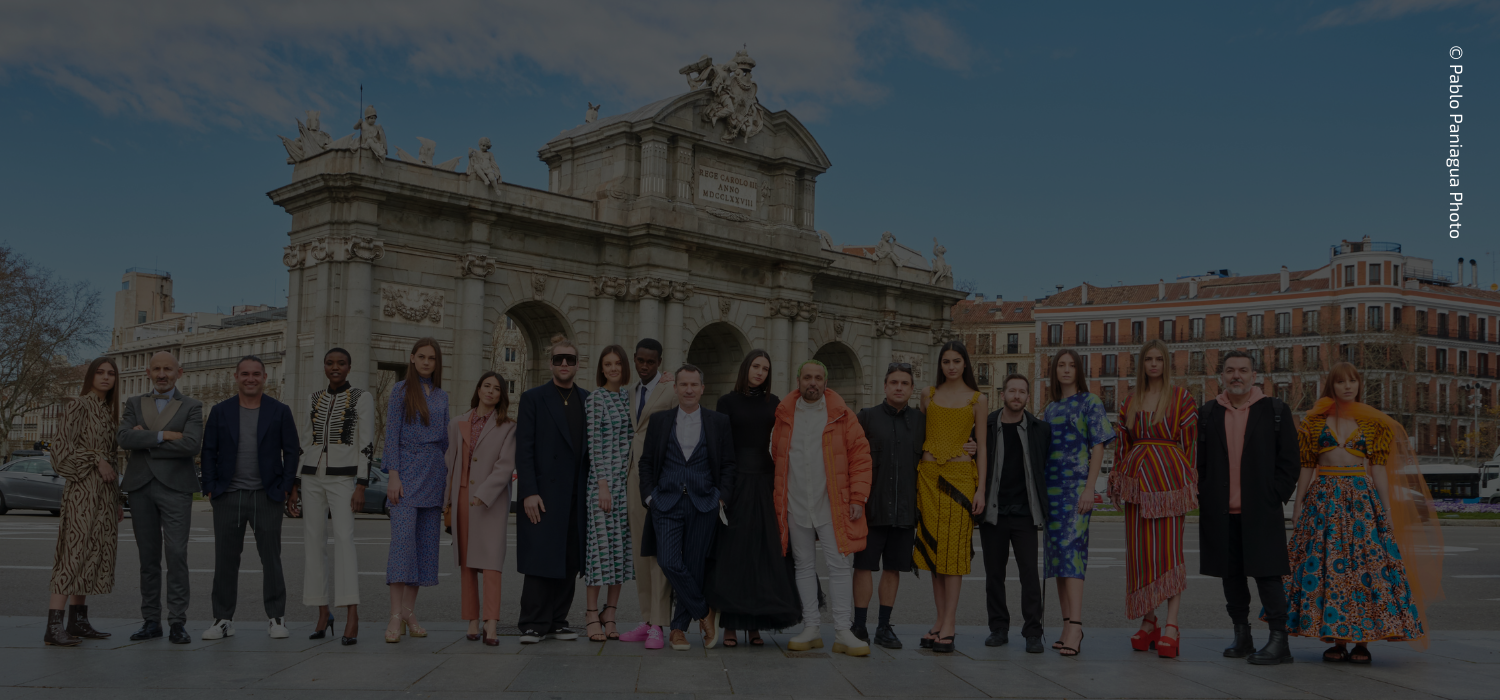 Madrid Fashion Week returned from March 4 to 14 with numerous proposals such as Madrid Es Moda, the initiative of the Spanish Fashion Creators Association (ACME), supported by the Madrid City Council through the Madrid Capital de Moda project, its brought fashion back to the streets of the city to present the different collections of designers and signature fashion designers in different parts of the capital to share their creations with the entire public, both men and women from Madrid and visitors.
ESLOW FASHION IN MOTION
On Friday, March 4, MADRID ES MODA inaugurated its new edition with a groundbreaking proposal that consisted of taking  a tour of different parts of the city with a bus carrying designers and models. Maison Mesa, María Lafuente, Eduardo Navarrete, García Madrid  among many others, showed their designs in Plaza de Cibeles and Plaza de Colón.
The proposal called ESLOW FASHION IN MOTION gave the starting signal and had in its last stop the presence of the Vice Mayor Begoña Villacís in the firm commitment of the Madrid City Council for Spanish author fashion.
📸 © Pablo Paniagua Photo
MADRID: stage of shows & presentations 
In this edition of Madrid es Moda, the presentations of the new collections have taken place in the Serrería Belga space, such as those by Ernesto Naranjo, Beatriz Peñalver, Bimani o Juana Martín,but fashion has also been enjoyed in numerous places in the city ​​of Madrid. From the Cebada Market, which hosted the risky presentation by  Eduardo Navarrete, o the impressive  Museo Cerralbo which was the setting chosen by Duyos to show off his new collection full of luxury and art, while Roberto Verino ccelebrated his 40-year career by showing her 'Serene Beauty' collection at the Villamagna hotel. 
📸 © Pablo Paniagua Photo
Devota & Lomba also chose a hotel to present its new collection, in this case the rooftop of the  hotel ME Madrid Reina Victoria in the central neighborhood of Las Letras. Other designers such as Jorge Vázquez, García Madrid, o Juanjo Oliva,chose their shops or ateliers as spaces to present their latest works.